Tragen B200
220 Volts freedom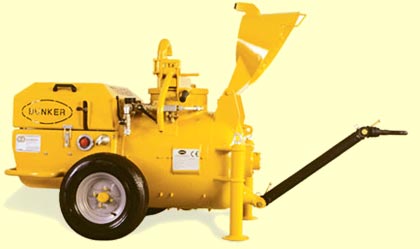 B200E
Mixing - Pumping - Transporting
For more than twenty years, BUNKER has developed and made mixers - transporters for floor screed. In fact, using these machines will save you both time and money, doing away with the need for concrete mixers, wheelbarrows, cranes or other types of lifting machinery.

The Tragen B200 pump for floor screed is the smallest in the range. Its originality lies not only in its compact dimensions, making transport and positioning in small building yards easier, but mostly in its reduced actuation power.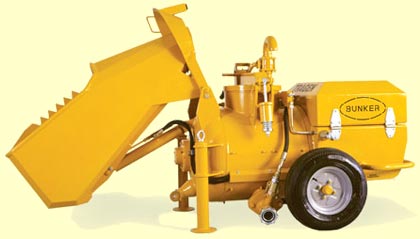 B200 EB with loading skip
Economical - Practical - Single phase
A mere 2.2 kW single phase is enough, (i.e. the power in the electricity mains) and the B200 is ready to start working, a possibility that is often denied to superior category machines since not all building yards have enough energy to power them.
The layer knows this only too well!

So it is truly a great advantage, which frees the construction company from tiresome and expensive electricity supply contracts.
Combined with a 2000 litre compressor you will be surprised by its performance, with just one operator, as it mixes and pumps approx. 8-10 m3 at a height of 30-40 m in a day. The most varied mixes and for floor screed used today in modern constructions:
sand, polystyrene, cork, fine gravel
concrete with a max granulometry of 20 mm
light concretes

without the need for continuous displacements.
Tragen B200, the pump for floor screed that will astound you
| | |
| --- | --- |
| | After seeing a demonstration, all my doubts disappeared. The B200 single phase is the floor screed pump i wanted. |