Regional building equipment dealers

Bunker is looking for dealers in new countries or regions without dealers. Please contact us by e-mail, phone or fax. An experience in the building sector is necessary.
Single-phase plastering machine for ready-mixed dry plasters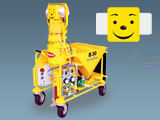 The single-phase B30 is a compact plastering machine, easy to use, it's ideal to mix, pump and spray dry ready-mixed plasters continuously on internal and external walls. The compressor, being powered directly by the screw pump motor, allowed Bunker's technicians to eliminate an electric motor. Performances are similar to a three-phase machine.
Machine: Single-phase B30
Hydraulically-driven electricity generator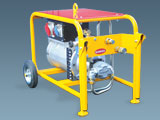 Hidrogen is the 12,5 KVA electricity generator produced by Bunker, it can be powered by any building machinery's hydraulic system (digger, excavator, drilling rig). Small dimensions, light and cheap, it will supply electricity in any circumstances replacing a bigger and more expensive traditional generator.
The innovative completely portable concrete mixing and pumping unit on wheels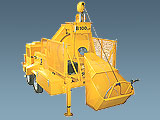 The B100xp is a hydraulically-driven, trailer mounted concrete pump with progressive output and pressure regulation. Designed by Bunker to mix concrete or mortar directly on site helping builders to work faster and autonomously. This compact unit will reduce the number of machines you will need to use to get the job done.